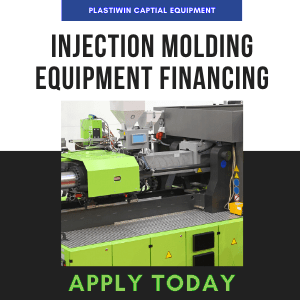 An injection molding machine, which is also known as injection moulding machine or injection press; is a machine for the manufacturing of plastic products by the injection molding processes. There are four classifications of injection molding machines, all of which PlastWin employees are experts on.
Looking for a used plastic injection molding machines for sale? Look no further, PlastiWin Capital Equipment has you covered. We offer quality used injection molding machines in brands such as Van Dorn, Husky, Toshiba, Krauss Maffei, Milacron, and many more. With a wide variety of tonnage machines, we are here to help you! Browse our selection of injection molding machines. Contact PlastiWin for a free quote on any of our used plastics equipment at 330-998-6738 or machine@plastiwin.com.
Used Injection Molding Machines For Sale
PlastiWin Experts in Used Injection Molding Equipment
If you are looking for a plastic molding machine for sale, you have come to the right place. We maintain an extensive inventory of used plastic injection molding machines for both plastic and rubber molding. Our team of used equipment specialists can help you find the perfect machine that meets your budget requirements. We focus on selling the highest quality used equipment with complete transparency, and we are certain we can offer an injection molding machine price that will be right for you.
Brands of Used Injection Molding Equipment
Why buy used injection molding machines
Over the last couple of years, the procurement of used machines has skyrocketed. Part of that is manufacturers, especially in the plastics processing industry, have received more orders than they can keep up with. Added to that is the difficulty in finding new equipment and getting it in the desired timeframe. Another advantage in buying used injection molding equipment is familiarity. If you have employees that are already skilled on a particular brand of injection molder, buying another machine of the same make will cut down on training time, creating further savings of time and money for your company.
What to look for in used injection moulding machines for sale
No matter what kind of plastics processing equipment you are looking for, there are certain processes and criteria you can follow and set in order to make sure your purchase is successful. Ask yourself these two questions first.
What current deficiencies do you want the used plastic injection moulding machine to solve or fill?
What do you need the additional machine to do? In other words, what size molds will you need the machine to produce? What kind of pressure will be necessary?
Other questions to consider before looking at plastic injection molding machines for sale are what materials/viscosity the machine will need to handle, the total number of parts you need the machine to produce, and the ejector rod spacing you will need.
Once you have determined the day-to-day basics you need a plastic injection molding machine to fulfill, it is time to consider what options or accessories you'd like the new addition to your inventory to have. Are you seeking specific hydraulic or air functions? Do you want a robotic interface?
Knowing what you need and want when looking at used plastic injection moulding machines for sale will enable you to make 1:1 price comparisons and select the option that is best for your shop.
How to inspect used injection moulding machines for sale
Having spent a lot of time determining what you want in a used plastic processing machine, it makes sense to ensure the specific machine you are purchasing is in ideal shape. There are specific facets of the equipment you can evaluate to make sure your expectations will be met. We offer a comprehensive checklist for inspecting our equipment specifically to help our buyers feel secure and confident in their investment.
How much do used plastic injection molding machines cost?
As is the case with so much in the world, there is no single answer to this seemingly simple question. Even where new equipment is concerned, there is not necessarily price uniformity. Large machines can cost anywhere between $50,000-$200,000, but sometimes a smaller machine may cost $100,000 because of its quality and/or capabilities. The same holds true for used machinery. If anything, pricing may be less uniform because so much depends on condition, the warranty, shipping, and more. Nonetheless, it is important to have a budget figure in mind when looking for a plastic injection machine for sale. How can you match up your budget with the right piece of used plastics processing equipment? Here are a few things to consider.