Looking for a used plastic extrusion machine for sale or used extruder? Look no further, PlastiWin Capital Equipment has the plastic extrusion machine for you. We offer plastic extruders in brands such as Davis Standard, Nanjing, Milacron, American Kuhne, and many more! Browse our selection of plastic extrusion machines. Contact PlastiWin for a free quote on any of our used plastics equipment at 330-998-6738 or machine@plastiwin.com. 
Used Extrusion Downstream Equipment
Other Extrusion Equipment for Sale
PlastiWin: The Experts in Used Plastic Extrusion Equipment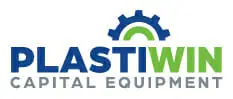 Here at PlastiWin, we maintain a diverse inventory of extruders and extrusion line machinery from various reputable manufacturers. With a team of specialists in used extruders, we can help you find the best equipment for your application with competitive pricing to fit your budget. Our goal is to deliver the highest quality products while maintaining complete transparency during every transaction.
Our catalog of plastic extrusion machines for sale changes frequently. However, we do typically carry plastic extrusion machines from the following brands:
Shop Used Extrusion Machine Brands
Using plastic extrusion, raw plastic is melted and formed into continuous profiles. Items made by extrusion include pipe/tubing, weatherstripping, fencing, deck railings, window frames, plastic films and sheets, and thermoplastic coatings. Using a plastic extruder is a high volume process, where a lot of product is created quickly.
Searching for an extruder machine for a plastic extrusion job? You can get a plastic extrusion machine for PVC, ABS, and many different polymers. PlastiWin has a wide variety of used extrusion machines for sale, to help you deliver high quality parts.
Our most popular brands of used extruders and extrusion lines include: American Leistritz Extruder & Twin-screw Extruder, Entek Extruders, Werner & Pfleiderer Extruder & Twin-screw Extruder, Coperion Extruder, Milacron Extruder, and Berstorff Extruder.
If you are looking to buy, sell or liquidate used extruders or extrusion line machinery, contact PlastiWin at 330-998-6738 or machine@plastiwin.com